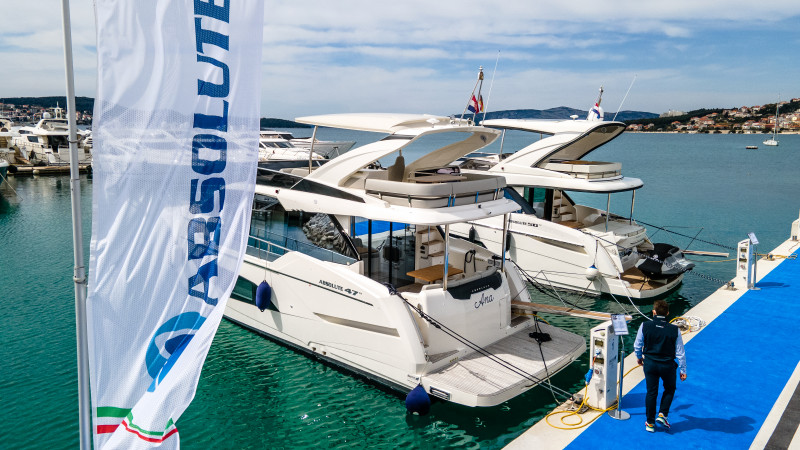 09th JUNE 2021
Baotić Yachting is pleased to invite you to the ABSOLUTE RENDEZ-VOUS which will take place in Marina Baotić in Seget Donji/Croatia on the 9th June 2021.
We are looking forward to presenting you 5 astonishing Absolute Yachts in our Marina in Croatia. The event will take place on 9th of June 2021 between 10:00 am and 17:00 pm. The frame of the event is a friendly and relaxing atmosphere accompanied by drinks and catering.
You will have the opportunity to visit the 5 new models
FLYBRIDGES:
NAVETTA:
COVID-19 Information: Due to statutory obligation from the official authorities for the prevention of spreading of Covid-19, please note that a PRE-REGISTRATION with your personal data is required and compulsory. Your data will be treated in accordance with GDPR measurements.
For boat owners who intent to join the event and reach Marina Baotic by means of their own yacht, we have enough capacity for moor you on day base within one the transit/daily berths. In case you intent to join us with your yacht, please be so kind and contact us prior arrival to reserve the berth.
CLICK & MEET!
We do everything for your health and safety.  We are implementing all required hygiene measures with sufficient hand disinfection stations, by implementing a special hygiene concept for catering, by mandating the wearing of face masks wherever this is required by the laws applicable at the time of the event.
To spend your stay in Marina Baotić as carefree as possible, from now on you have the opportunity to test yourself on COVID-19 directly in the marina. All test results will arrive at your private e-mail addresses within 24 hours, and possibly the same day, all by agreement and appointment.
For all further questions related to detailed schedule, arrival, accommodation and registration of your visit, Mr. Zlatko Coskovic kindly remains at your disposal.
T: 0049 (0) 69 829 788 28
News
Once again, Absolute Yachts throws down the gauntlet to the luxury yacht industry with the new Coupé range: sporty, devoted to comfort, and highly versatile.
The series, which is a new chapter for our Italian shipyard, has been completely re-invented. The revolutionary ideas that have made Absolute's models famous are back on board; this time, they have been enhanced by intriguing new features. 
We have great news, from now on you can visit our sales team in the newly opened sales office
in Marina Dalmacija in Sukošan (D-marine).
View all