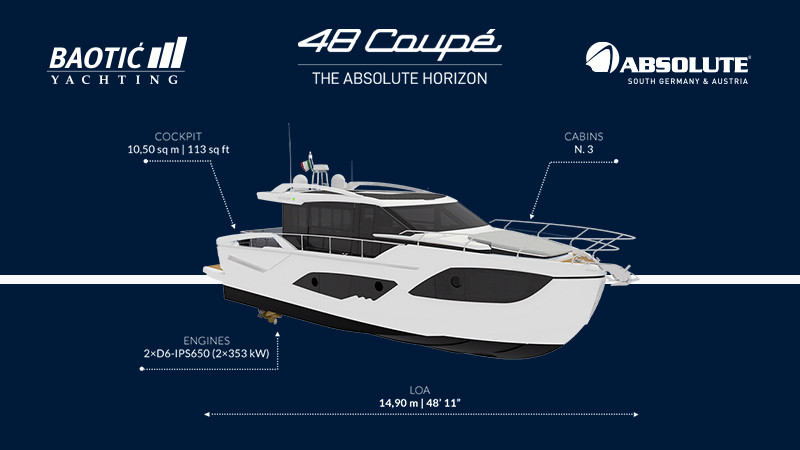 Absolute Yachts launches the first model in the new Coupé range.
Once again, Absolute Yachts throws down the gauntlet to the luxury yacht industry with the new Coupé range: sporty, devoted to comfort, and highly versatile. The series, which is a new chapter for our Italian shipyard, has been completely re-invented. The revolutionary ideas that have made Absolute's models famous are back on board; this time, they have been enhanced by intriguing new features. For instance, they have been equipped with solar panels, large windows with panoramic openings, and a large "terraced" cockpit, in which new configurable décor allow for maximum versatility of use.
The sporty lines preserve Absolute's spirit and attention to the environment. Absolute 48 Coupé stands out for her bold style, high level of usability, and a strong commitment to sustainability. For example, her roof is equipped with a set of solar panels, one of which is transparent to let in natural light without overheating the room. This offers a convenient and clean source of energy, which is particularly important while you are enjoying your surroundings at anchor.
48 Coupé - the Absolute Horizon - redefines the concept of the horizon as a new boundless dimension where it is possible to experience something unique and unprecedented. Tracing, in a way, their own horizon. Thanks to innovative and forward-looking engineering, owners and their guests can enjoy the cozy galley, perfect for lunch, as well as for an afternoon in good company. Escape from the hustle and stress of everyday life in total autonomy and safety. A unique journey also awaits below deck, where three comfortable cabins with high ceilings offer unparalleled livability for yachts of this size.
Absolute 48 Coupé will premiere at the Cannes Yachting Festival, from September 7th to the 12th, 2021. The event will be preceded by a few special days for the press in August 2021.
News
Biograd Boat Show is the largest nautical show in the region, will this year take place from 20.10. - 24.10.2021.
We are looking forward to meeting you there.
Gladly we announce that from now on we are also available to all De Antonio Yachts customers and interested parties on Lake Constance. Baotic Yachting - your De Antonio Yachts dealer for Germany, Austria, Slovenia and Croatia.
Our partner for De Antonio Yachts on Lake Constance: Robert Thomas
As CEO of Surfboats Germany Robert Thomas is the ideal partner for all subjects regarding De Antonio Yachts on Lake Constance.
Further information can be found at the following link: https://www.baotic-yachting.com/en/sales/new-boats/de-antonio-yachts.
If you are interested in a De Antonio Yachts, please contact us. We are happy to go through the wide range of products with you and support you in your decision-making and help you with any questions that may arise.
Feel free to contact us by phone or email!
Frankfurt (Headquarters)
Andréstraße 2, 63067 Offenbach/Main, Germany
Tel: 0049 (0) 69 / 829 78 80
Fax: 0049 (0) 69 / 829 78 81 1
E-mail: info@baotic-yachting.de
View all