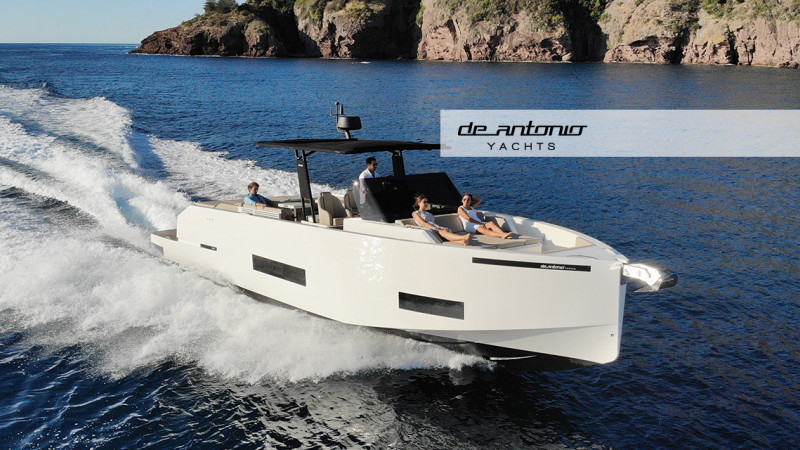 We, Baotic Yachting, are proud to announce our partnership with De Antonio Yachts. A brand aimed at demanding boat owners, looking for something new and different that exceeds their expectations Boats to live the sea with style, sportiness, and comfort.
As an official De Antonio Yacht dealer, we take care of customers in territory of Germany, Croatia and Slovenia.
De Antonio Yachts was born from the passion for the sea and design of its founders, Marc De Antonio and Stanislas Chmielewski, powered by the interest to innovate and build boats designed with simple and vanguard lines.
Nowadays, De Antonio Yachts has a product range in 4 different lengths from 28 foot up to 50 foot manufacturing in two production centers, one in Portugal and the other in Poland with a large annual production.
In each length, different models are offered maintaining the same design, with the innovative concept of hidden outboard engines boats and smart solutions to get the most out of your boat.
Find more information and the range at: De Antonio Yachts
New De Antonio Yachts - D42 Open for sale.
Boat available in stock, visible by the end of May 2021 at Seget Donji/Croatia
More information & equipment at: De Antonio Yachts - D42 Open
News
Once again, Absolute Yachts throws down the gauntlet to the luxury yacht industry with the new Coupé range: sporty, devoted to comfort, and highly versatile.
The series, which is a new chapter for our Italian shipyard, has been completely re-invented. The revolutionary ideas that have made Absolute's models famous are back on board; this time, they have been enhanced by intriguing new features. 
We have great news, from now on you can visit our sales team in the newly opened sales office
in Marina Dalmacija in Sukošan (D-marine).
View all